PCD Series 3 Axis BT50 Spindle Taper CNC Machining Center
PCD Series 3 Axis BT50 Spindle Taper CNC Machining Center
PRATIC

CHINA

100 UNITS/MONTHS
1. With functions of milling, drilling and tapping;
2. PRATIC uses International CNC controller system for this model;
3. Machining for various length of metal profile, such as aluminum, steel, copper, etc;
4. Adopted the double cantilever design structure, increase the equipment stability and improve machining accuracy;
5. The auto chip conveyor is a standard configuration which makes it easier for chip cleaning;
6. Widely used in the industries of electronic appliance, aerospace, railways, machinery parts, etc.
Advantage
Use BT50 Taper, Suitable for heavy cutting
Adopted the double cantilever design structure, increase the equipment stability and improve machining accuracy;
Has a large bevel plate metal organ cover for protection
Equipped with automatic chip removal system and automatic cooling system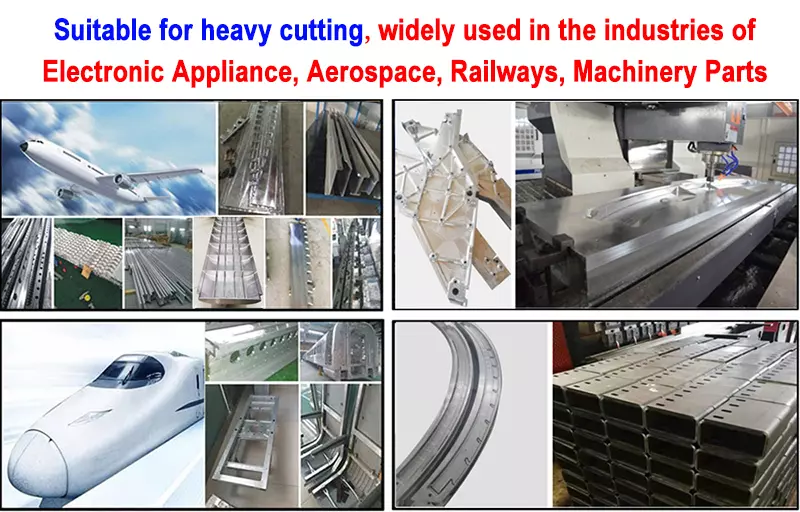 Technical Data - PCD

Travel

Unit

Parameter

X Axis

mm

4000-6000

Y Axis

mm

800/1200

Z Axis

mm

600

Spindle






Spindle speed

rpm

8000/10000rpm

Spindle taper




BT50

Working Table






Max weight on working table

kg

5000

Length

mm

4510-6510

Width

mm

850/1050/1250

Feedrates






Rapids X

m/min

60

Rapids Y

m/min

30

Rapids Z

m/min

30

Positioning precision X

mm

0.02

Positioning precision y

mm

0.01

Positioning precision z

mm

0.01

Repeating precision X

mm

±0.01/1000

Repeating precision y

mm

±0.01/1000

Repeating precision z

mm

±0.01/1000

Tool Magazine






Type

/

Umbrella type

Quantity

pcs

12/20

Tool change time

sec

6

Axis Motors






Spindle driven motor

kw

17

Driven motor ( X)

kw

5.2

Driven motor (Y/Z)

kw

3.1

Lubricating system




Automatic Lubricating

Cooling system




Water cooling

Operation system

/

FANUC / SIEMENS

General






Air required

Kg/cm²

6

Height

mm

3600

Area

mm

9500 -11500x 3150/3400/3700

Weight

Ton

17~23