PIC Series 3 Axis Double Head CNC Machining Center
PIC Series 3 Axis Double Head CNC Machining Center
1. With functions of milling, drilling, tapping;
2. 3-Axis Double Head CNC Machining Center;
3. Machining for various length of steel frame, aluminum frame, copper frame and etc;
4. Adopted a high speed and high-precision design mode;
5. High processing efficiency and high-accuracy machining;
6. Widely used in the profiles processing of invisible hinges, minimalist glass doors, door handles, TV frame
Description

1. This CNC machining center with the functions of milling, drilling, tapping, chamfering;
2. X-axis: 2500-6500mm(other lengths can be customized), Y/Z axis: 450/400mm
3. Using the international CNC controller system: FANUC/ SIEMENS;
4. Machining for various lengths of steel frame, aluminum frame, copper frame and etc;
5. Adopt a high speed and high-precision design mode, with high processing efficiency and high accuracy;
6. Equipped with a special chip collection device, easy to clean chip;
7. Multi-station clamping processing of small materials, realized loading and unloading without stopping the machine;
8. Widely used in Electronic Appliances, Customized Furniture(cabinet handle/ hinge/ door frame...), Auto Parts(bumper/ skylight rail/ decoration trim etc.) and other aluminum frame processing

Product Images & Dimension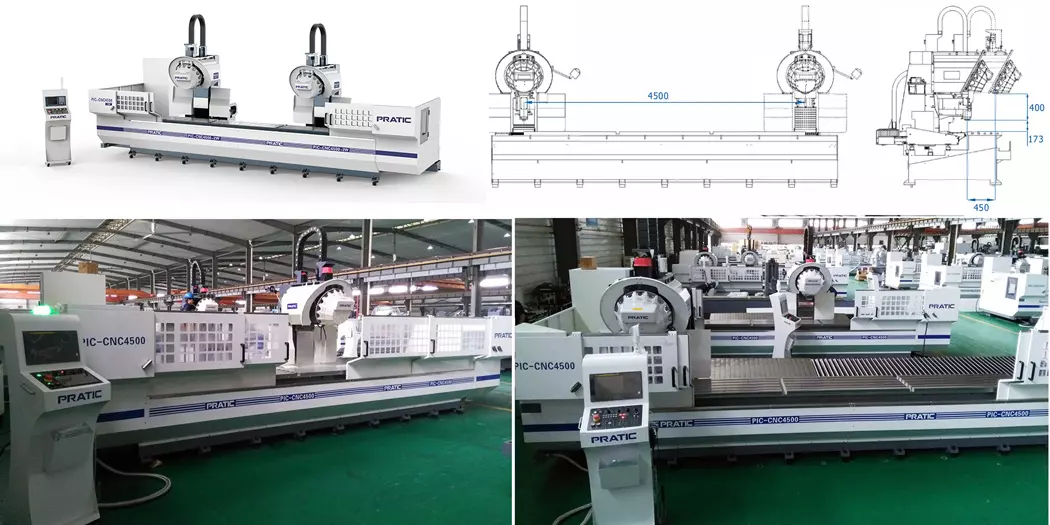 --- With double heads, it is able to process two workpieces at one time, doubling the production efficiency ---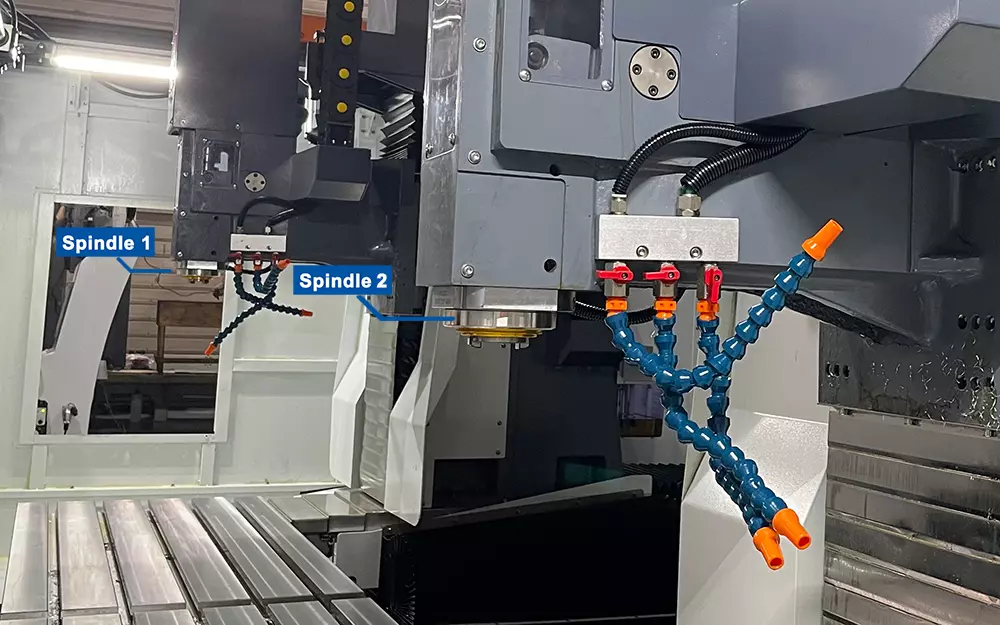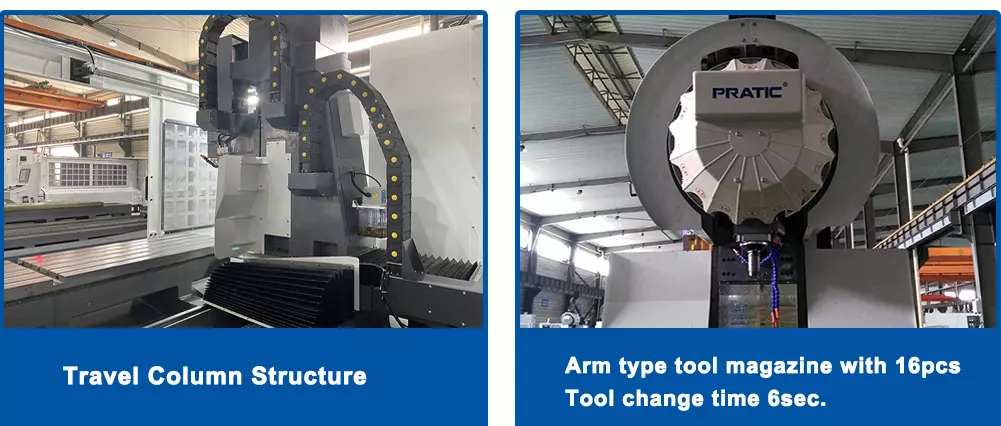 Applications
1) For making auto parts: such as the luggage rack, running board, sunroof rail guide, wheel hub, chassis, EV battery tray and so on.
2) For making rail-transit equipment: such as the train body, seats in the train, aluminum components and accessories in the train, steel parts of the rail
3) For making aluminum window frame, door frame, curtain wall frame, handles, marquee & tent frame, and so on
4) For making steel mold, linear module, machinery parts and so on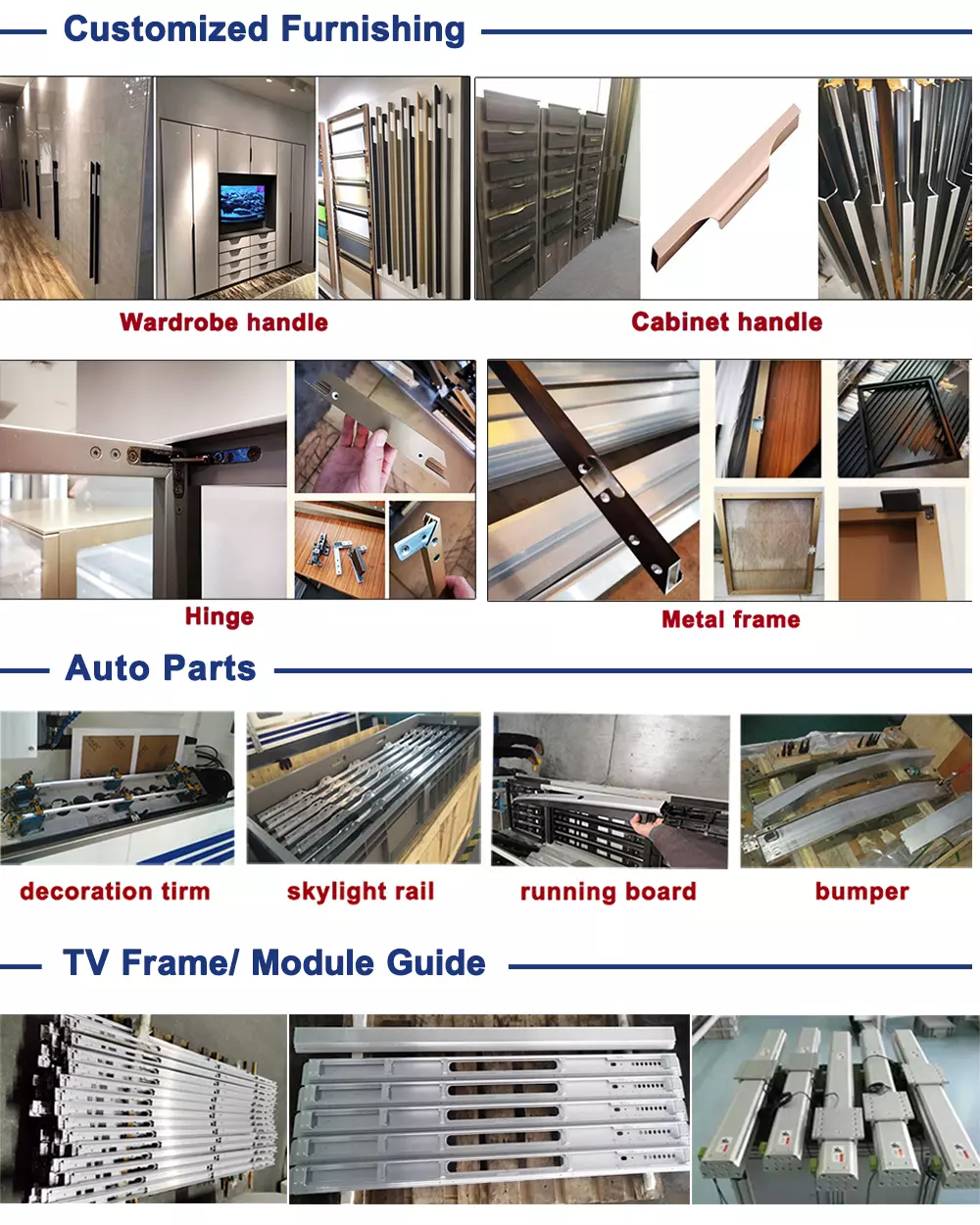 Technical Data
Travel




X Axis

2500-6500 mm(Can be customized length)

Y Axis

450 mm

Z Axis

400 mm

Spindle




Maximum speed

12000 rpm(24000 rpm motorized spindle)

Taper

BT30 φ120 mm(outer diameter)

Tool




Tool Magazine

Arm type

Capacity of tools magazine

16 pcs

Tool change time

6 sec

Moving Speed




X moving speed

60 m/min

Y moving speed

28/40 m/min

Z moving speed

28/40 m/min

X/Y/Z cutting feed rate

15000 mm/mln

Operation System

FANUC

SIEMENS

Motor Power






Spindle driven motor

5.5 kw

8 kw

X/Y/Z driven motor

3.0/1.8/1.8 kw

2.772.7/3.1 kw

Lubrication and Cooling System




Lubricating system

Automatic lubrication system

Cooling system

Water cooling

Precision




X-Axis positioning accuracy

0.05 mm(grating 0.01 mm)

Y/Z-Axis positioning accuracy

0.02 mm

Repeating position (X/Y/Z)

0.01 mm

Mechanical Specification




Required pneumatic pressure

6 kg/cm2

Height

3300 mm

Area

5000 - 9350 x 2650 mm

Weight

7000-11000 kg
*The above parameters are for reference only, subject to Technical Agreement.
Option Feature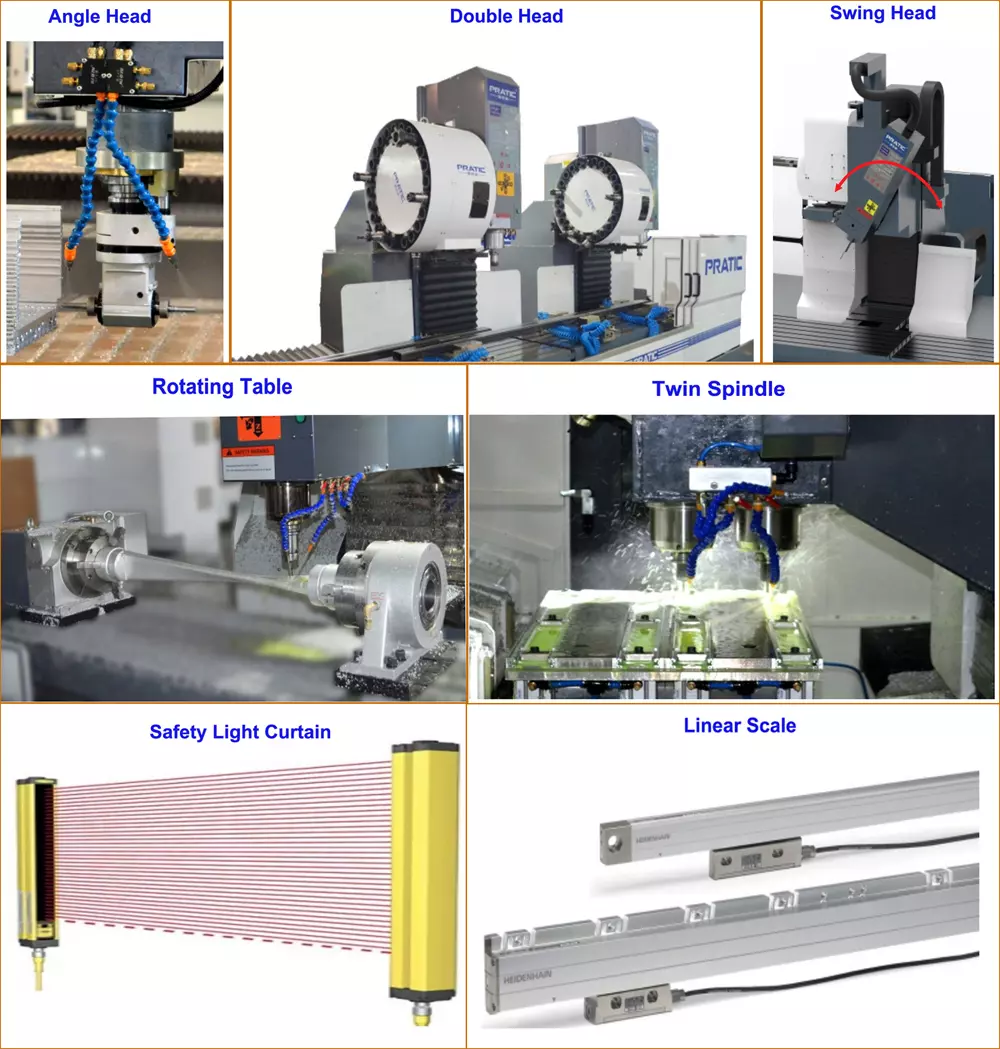 After-sale Service:
PRATIC has one year warranty, and a strong team of engineers and maintaining stuff to support after-sales service.
Technical Capability and International Technical Cooperation:
PRATIC owns a research team of more than 30 people, and carry out deep technical cooperation with the partner companies from Germany and Japan. PRATIC has got 182 patents which include 109 invention patents, 68 utility model patents and 5 appearance patents. Besides, PRATIC also owns 5 copyrights of computer software.
Management Standards and Quality Compliance:
PRATIC adopts the international management system, and has got the ISO 9001: 2008 certification. PRATIC's products get the CE certification.